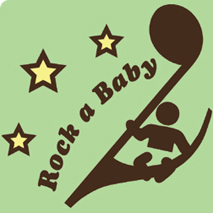 Rock-a-Baby introduces music to infants and toddlers in fun and exciting new ways! With interactive play, children have a unique opportunity to be "in the band" and engage in a stimulating and educational musical experience. Every week a general theme will be introduced, through which three energetic teachers, zany puppets and wide-eyed children will explore simple musical concepts through live and recorded music.
There are many ways for a child to have a successful experience at Rock-a-Baby: rhythmic repetition and improvisation with real instruments made for children, melodic recognition, pictorial imagination, hand movement, body movement and more. Ranging from classical to jazz, and traditional children's songs to rock 'n roll, Rock-a-Baby is an experience that everyone can enjoy!
This class begins again the week of March 2nd and runs for eight weeks.
Thursday: 9:30 - 10:15 am

Thursday: 10:30 - 11:15 am

Thursday: 11:30 - 12:15 pm
Thursday: 4:00 - 4:45pm
Thursday: 5:00 - 5:45pm